Are you modifying your already built Portable Box Blind? If so, see these instructions.
Step 2 - Build The First Level of This Tower Deer Hunting Stand
Intro
|
Step 1
|
Step 2 (You are here)
|
Step 3
|
Step 4
Install First Two Corner Posts & Supports and Tip The Stand Up
Insert the first two legs as shown below. Use some long deck screws to hold the posts in place.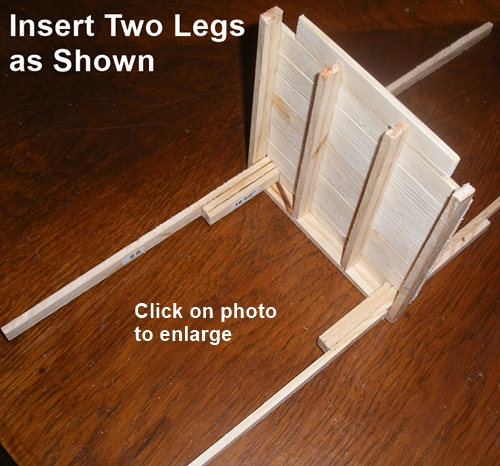 Attach the ladder and then attach one of the diagonal supports, as shown below. The other 2x4 is screwed on for the purpose of positioning the diagonal - then you remove it. Note that you will need a short 12 or 16" 2x4 piece to serve as a spacer between the ladder and the corner post. You can attach the ladder with 3/8" lag screws and deck screws.
Now attach a 6-ft diagonal support and a temporary 6 ft support as shown below. The temporary support holds up the deck until the other legs can be installed.
Here is another photo below from the deer stand model that shows all of the diagonal support.
Now, tip the stand up. One person can handle this, but two may be needed. See this video and the photo below. The stand will stay up once you tip it so you can attach the other legs.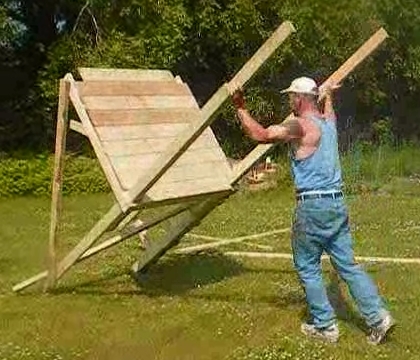 Attach Remaining Legs, Deck End, and Remaining Diagonal Supports
Attach the remaining two legs and the 2x4 end piece that was removed, as shown below. Also, remove the 6 ft temporary support.
Attach the remaining three 8-foot diagonal supports. Also attach the 6 ft temporary support to the back side of the legs on the right side of the stand. (The front side has the ladder facing you). All four side views are shown below - an 8 ft diagonal will extend off each corner.