Easy Deer Hunting Ground Blind Plans
I don't think anything is quite as exciting as having a deer walk within 20 (or even 10) yards of you while hunting from the ground! The deer hunting stand shown on the left is a great ground blind that will fit around trees as needed and will block much of your scent. This is an ideal hunting blind for hunting a well-used trail as you may position it on either side, according to the wind. You can make yourself nearly invisible in this hunting stand by placing it near brush or trees and then draping some branches over the sides. (Note that in state forests or other public lands you should cut branches from your own land and bring them with you). This deer hunting blind only costs about $40 to make. Note that this blind only has one shooting window. To accommodate more windows, you will need more camouflage material and supports.
I would recommend preparing shooting lanes in advance so you may quickly set up your stand when needed. When hunting public lands, you may prepare shooting lanes without cutting any trees or brush by simply pinning back brush with old logs or dead wood.
As a final note, being invisible is a great thing when archery hunting, but not so good when firearm hunting! For gun hunting, you should place blaze orange material on the outside to insure being visible to other hunters.
Instructions for Building Ground Hunting Blind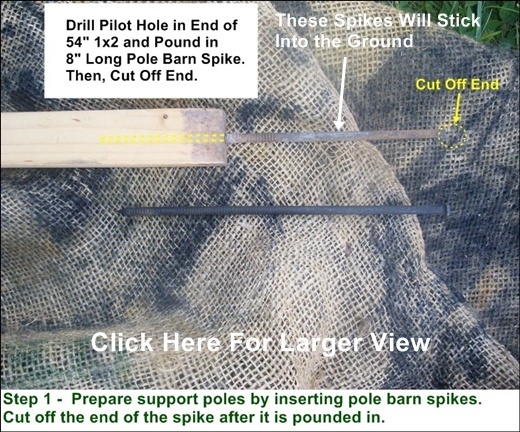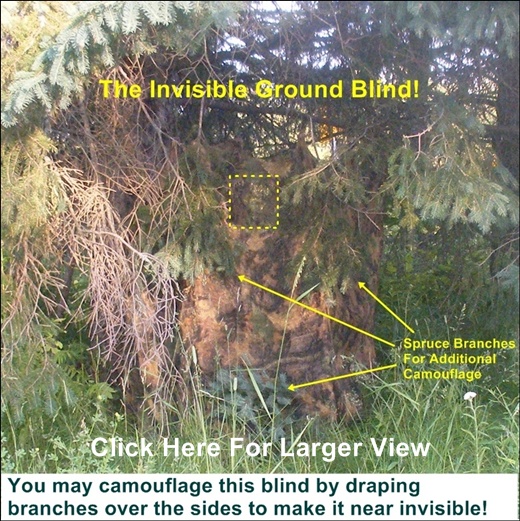 ---
Click Ctrl D to Bookmark This Page! Tell Your Friends! Click on The Share Button =>