Step 4 - Build The Top Level of This Tower Deer Hunting Stand
Intro
|
Step 1
|
Step 2
|
Step 3
|
Step 4 (You are here)
Secure Upper Deck Frame and 9'3" 2x4's
Place the upper deck frame over the top of your stand and temporarily attach it 2 or 3 feet up to serve as a safety rail. Then secure your 9ft 3" 2x4's on each corner with lag screws and other fasteners, as shown below. . Once these 2x4's are secured, move your upper deck frame so the bottom of it is 62" from the top of the decking below. Secure the deck frame on each side of each corner with lag screws and other fasteners.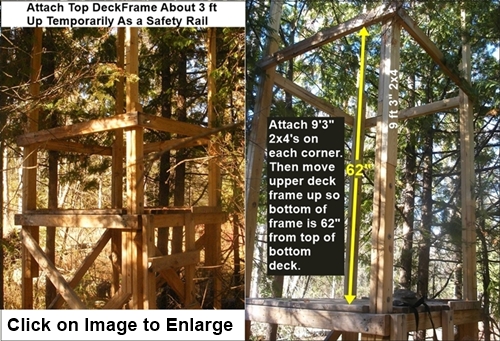 Attach More Deck Frame Pieces
Secure (2) 47 15/16" 2x4's so that the inside distance is 23", as shown below. Also secure a 23 15/16" 2x4 on one side - This 2x4 serves as a stop for the trap door.
Attach Decking and Ladder to Deer Stand
Attach the decking as shown below. Use deck screws/nails. Also attach the 8ft ladder.
Attach Trap Door and Bottom of Ladder
To attach the trap door, position it and then attach the two strap hinges as shown below. To secure the ladder bottom, insert deck screws through the bottom 2x4 into the lower deck.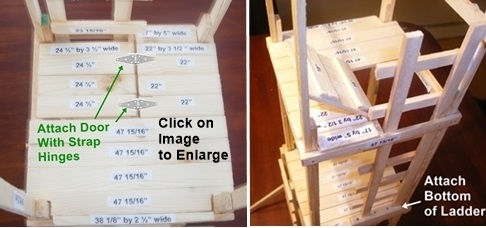 Attach Top Rail & 12" 2x4 Nailers
Place the top rail over the top and then secure in place so the top of this rail is 47" above the top of the deck below. You may place it lower than this, but you then may have difficulty getting shooting windows at the right height. If you go higher, your 4ft wide sides might not reach. Attach two 12" 2x4's at each corner, as shown below. I would recommend screwing some 2x4 as temporary safety rails or using a safety harness.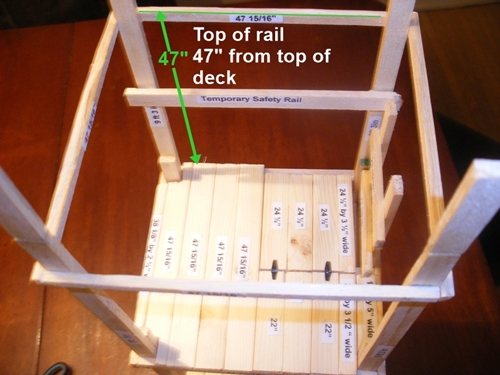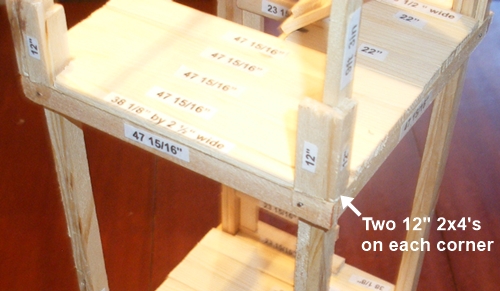 Attach Lower Side Panels to Your Deer Stand
To make the job of holding your 1/2" thick side panels in place while you secure them a LOT easier, construct the gizmo I created as shown below - I screwed in a bike hook into a piece of 2x4 and then bent the hook a little so that when I attach this to my side piece, it would hold my side piece up flush with the top until I could fasten it. In addition, you can haul up your side pieces with a rope secured to the hook! Fasten your four pieces as shown below with some longer screws at the corners.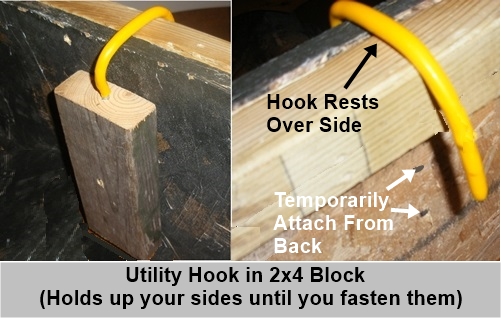 Place Roof on Your Hunting Stand and Secure in Place
Find a way to get a rope around your roof frame (a large eye hook works well) and haul your roof up. Then set it in place and fasten it at the corners.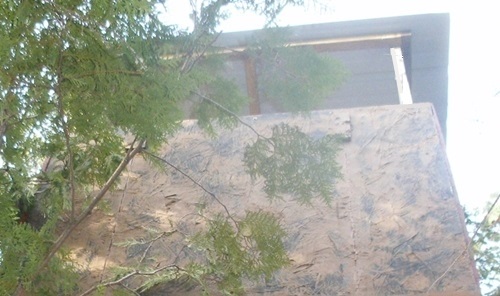 You can leave the top open if you want, but in our snow country I would rather have it closed in to keep snow out and allow me to heat the space. I place the 1/4" thick panels in place and fastened to the corners, as shown below.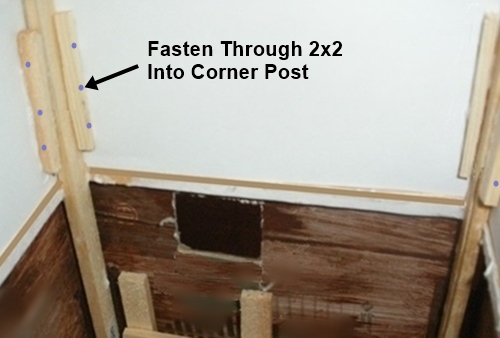 More Stability & Hunting Stand Maintenance
If your deer hunting stand is in an open windy area, you will want to add some additional support in addition to the J-hooks. You can achieve this by attaching addional 8ft diagonal supports as shown below. Also, you can provide more weight at the bottom by attaching 4ft 2x4's on each corner leg. To maintain and protect against rot, replace the 4ft pieces and all the 8ft diagonal pieces every 5 years or as needed.