Are you modifying your already built Portable Box Blind? If so, see these instructions.
Step 1 - Assemble Tower Deer Hunting Stand Lower Level Components
Intro
|
Step 1 (You are here)
|
Step 2
|
Step 3
|
Step 4
Deer Stand Corner Posts
Construct 4 corner posts as shown below. Each post will consist of two 2x4's fastened together with an additional 19 1/2" piece attached as shown. Use lag screws and deck screws or lag screws and 10d galvanized nails to fasten.
Lower Ladder of Tower Stand
This deer hunting stand has two ladders - this is the lower one. Cut two 67 1/2" 2x4's along with four 23 15/16" 2x4 ladder rungs. (They are just short of 24" to allow for material lost in cutting). Assemble as shown below with both deck screws and 10d galvanized nails.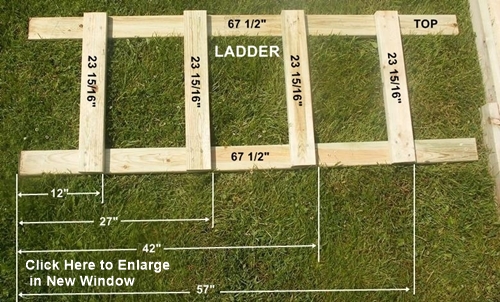 Lower Deck of Deer Hunting Blind
There are two decks on this deerstand - this the lower one. Cut six 47 15/16" 2x4's together as shown below using deck screws and 16d galvanized nails but only use screws on the temporary piece. Then cut decking as shown below and attach. Once the decking is attached, remove the temorary piece and keep this piece for the re-assembly. Note that the slightly shorter than 48" allows for the sawdust lost in cutting.
J-hooks
Cut 10ft reinforcing rod into 2 1/2" pieces and then bend into j-hooks, as shown below.